Manny Delcarmen has the years of service, while Rod Beck would have been an appropriate homage to the early decade. Alas, they lost out on a Team of the Decade spot to someone else.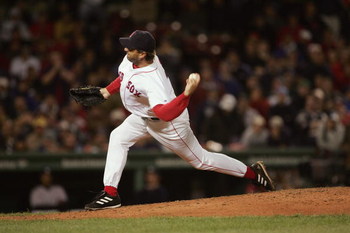 It's not often that a player who has pitched just 52.1 innings for a club is named to the Team of the Decade.
But it's not often a player like the sidewinding Mike Myers comes along, either.
Myers joined the Red Sox on August 6 of 2004, being claimed off waivers from the Seattle Mariners. The then-35 year old would go on to post a 4.20 ERA in 15 innings. Pretty weak, right?
Not really. You see, Myers was a Lefty One-Out GuY — LOOGY. He was a fine one, too. He held lefties to a .683 OPS while getting knocked around by righties — a .968 OPS in 2004 showed that Myers simply could not get right-handers out.
Boston didn't need him to, though. All they needed him to do was get lefties out… and more particularly, to get Yankees left-handers out like Hideki Matsui and Jason Giambi.
In the magical run of 2004, Myers was a crucial reason why the Yankees were defeated in Game 5 — but also why the team was even around for that game, thanks to Myers making a significant contribution in the 19-8 shellacking by New York in Game 3. What contribution was that, you might ask.
Simply pitching. We all remember that Tim Wakefield gave up his Game 4 start to pitch 3.1 innings and save the bullpen. We don't all remember that Myers chipped in with two innings, allowing two runs to close out the game. He helped save the bullpen, which would be taxed the following day (in which Myers also pitched, walking a batter before exiting the game).
Not just that, but in the ALDS, Myers completely and utterly mystified Garrett Anderson of the Angels.
But back to the ALCS. In Game 5, Myers entered the game in the 11th inning and mystified Hideki Matsui, striking him out before exiting the game, and ending his 2004 playoff run. But make no mistake about it: that was a huge out to get, and it continued Myers' dominating ways of getting left-handers out. (Interestingly enough, the two runs Myers coughed up in the 19-8 game was on a home run to Matsui.)
After the season, Myers signed a pact with the St. Louis Cardinals. Boston couldn't do without him, though, and acquired him in spring training. He would go on to have a strong season, posting a 3.13 ERA (second lowest season ERA of his career) in 37.1 innings (.409 OPS against lefties, 1.151 against righties). While Myers was valuable in his role, Boston did not ask him back for 2006, instead preferring to find others that could pitch more innings.
Myers would then go on to sign a deal with the Yankees, pitching from 2006-7 for the club. Much like Alan Embree and Mark Bellhorn, that signing smacked of trying to capture what Boston did in 2004. Unlike Embree and Bellhorn, Myers' contributions paid off while he was a Yankee… except for the reason he was signed: get David Ortiz out. In fact, his first and much-anticipated matchup against David Ortiz resulted in a bomb being deposited over the fence. Ortiz would continue to give Myers fits over the next two years.
It is difficult to truly give Myers justice in words. When you look at his statistics and even his cumulative totals against specific left-handers (like Matsui), he doesn't jump off the page at you.
I suppose, then, that… you just had to be there. You just had to watch Myers down the stretch and in the playoffs to gain an appreciate for how uncomfortable he made left-handers and how truly dominating he was against them, especially in 2005.
Mike Myers made a tremendous contribution to the Red Sox, and he deserves recognition for it. Forever immortalized on the All-Aughts Team of the Decade sounds like pretty good recognition to me.